Nikahnama is a binding contract and a fundamental element of an Islamic marriage. It describes the rights and obligations agreed upon by both parties (Bride and Groom).
Getting Pakistani Urdu nikah nama (Marriage Contract), the related issues are uphill tasks for expatriate / abroad Pakistanis. They are living in countries around the world like USA, UK, Canada, Australia, Germany, UAE, and Saudi Arabia etc. Those who are unable to visit or travel to Pakistan for this purpose can apply online to get their marriage. ZahidLaw Associates provide legal help for such issues. We serve our clients worldwide including main cities of Pakistan like Karachi, Islamabad, and Lahore.
West Pakistan Rules under Muslim Family Laws Ordinance 1961
According to the Muslim Family Law Ordinance 1961, it is obligatory that the NikkahNama should be registered in the Union Council. Where the original copy of NikahNama always retained as a public record. NikkahNama form has 4 copies duly filled by Nikah registrar (Nikah Khawan). They are signed by all concerned individuals. It is legal evidence of marriage under the law.
In case you have misplaced your NikkahNama, or you need to get a duplicate copy of nikkah nama (nikah kontrak), you can get it from the concerned Union Council Office. For immigration requirements, the Nikahnama must be registered.
How to fill terms in your Nikahnama:
The NADRA Marriage Certificate provides further evidence of marriage registration. The original nikah nama is in Urdu. If you need NikahNama for any proceeding it can be translated in English, Arabic, Hindi, Bangla, Afghan, German, but it must be attested from an authorized officer. You can download Pakistani NikahNama form in Urdu or English Format as PDF Document from our website.
We offer various packages for Online Nikah and its related services like attestation of Nikahnama, nikah document. It will be admissible around the world. For Online Nikah registration please submit Marriage Form or contact for a price quote.
Pakistani Urdu Nikahnama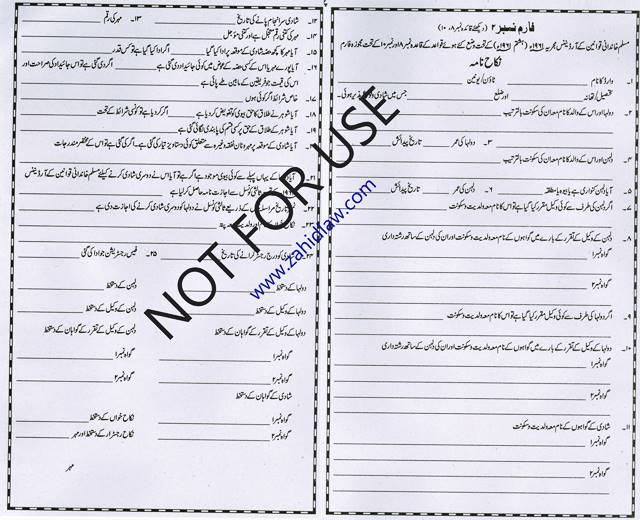 Pakistani English Nikahnama